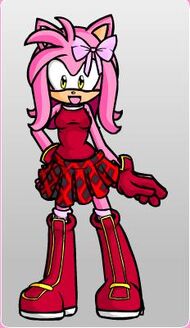 Madoka Heart the Hedgehog is a Hedgehog who loves Chao.She has the power of Metal.She is actually nearly a twin sister of Amy Rose.She is sometimes a victim of every attack because she is gentle like Zeus the Hedgehog.Her occupation is being a nurse.She was Empress of Mobius after when Emperor Zeus married her.
Before she met Zeus,she was like the other girls,who is going to meet their love.So she went to Mobius and she was going to be attacked by robots,but then Zeus saved her.It was then Madoka started falling in love with Zeus,and it was the same as him.So when she and Zeus bumped together at the Festival Carnival. So Zeus finally said he loves her,which made Madoka filled with excitement.After 6 years she was Empress of Mobius with Emperor Zeus.
Amy Rose
Cream the Rabbit
Sally Acorn
Cosmo the Seedarian
Blaze the Cat
Personality
Edit
She is gentle,kind,and sometimes she is angry when other girls flirt with Zeus. She enjoys Zeus loving her,music, and hanging out with her friends. She is obsessed with Zeus.
When she was born,her family were wealthy, however her parents died because of the Mobius War. Then she was crying until he met Zeus, he comforted her by hugging her. By the time she was 16, Zeus told he loves her.
Metal:She will use metal from any material and forms anything she needs to kill her opponent,
Shapeshift:She can shapeshift into any object to trick her opponent.
Fire:She will use her Rage to make fire and burn her opponents to death.
Information
Edit
Age:16/22 (when she was Empress)
Species:Hedgehog,Mobian
Weight:35kg
Blood:A+
Height:130cm
Gender:Female
Alignment:Neutral
Favorite Food:Zeus' Blood
Relatives:Amy Rose
Romantic Interests:Zeus the Hedgehog (future husband)
Alias:Love (by Zeus) Empress (when she was in that position)
Kids:Legend,Love,Blade,James (one continuity)
Health:3000
Attack:3000
Protection:3000
Speed:5 Light Years/sec
Ad blocker interference detected!
Wikia is a free-to-use site that makes money from advertising. We have a modified experience for viewers using ad blockers

Wikia is not accessible if you've made further modifications. Remove the custom ad blocker rule(s) and the page will load as expected.