It is made by JamesTechno998, created from LEGO Mindstorm NXT.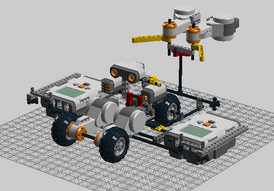 2 NXT Controllers
4 Servo Motors
1 Sound Sensor
1 Light Sensor
1 Ultrasonic Sensor
(Unknown)
Functions
Edit
The robot acts like a "waiter" or a "cupholder" that holds an object with its claw, located at the back. The extra Servos are needed to move the claw like a normal hand. It also needs 2 NXT Controllers to give enough commands to the gadgets.
Anime/Game
Edit
(Unknown)
Ad blocker interference detected!
Wikia is a free-to-use site that makes money from advertising. We have a modified experience for viewers using ad blockers

Wikia is not accessible if you've made further modifications. Remove the custom ad blocker rule(s) and the page will load as expected.